Rooms
Rooms at Hotel Treetop consist of well spaced independent cottages, deluxe rooms and an independent Bungalow. These rooms are cuddled by the fresh, deep green foliage pervading the property. Hotel Treetop is abundant in lawns, gardens and trees-both fruit laden and others. The greenery, along with the unplastered stone exterior and tiled roof of its buildings, all nestled in a gradually rising landscape, imparts a surreal ambience to the place. Buildings in Hotel Treetop are 1 or 2 floored, never higher. These rooms, open to nature, make its occupants discern how much they miss out when in high rise buildings, cut-off from the natural environment. Sprawled in a hammock, experience the bliss of being close to nature. In line with our eco-friendly endeavours, cottages and deluxe rooms have clay tiled floors and treated rubberwood furniture, which also adds to their rustic ambience. Indulge yourself seated on your private verandah observing the morning fog glide by, the playful giant squirrels, the mischief of monkeys and listening to the melodious chirping of a variety of birds.
Cottage
These are independent gabled, tile roofed quarters with granite stone exteriors reminiscent of the colonial bungalow. Equipped with modern facilities and a private sit-out, cottages provide absolute privacy and comfort. With its large dimensions and elegant layout, cottages are the most sought-after accommodation mode at Hotel Treetop.
Deluxe rooms
Deluxe rooms are housed in 2 floored buildings and the room dimensions are marginally smaller than those of cottages. These well equipped spacious rooms are cozy and also have their own sit-out.
Bungalow
Bungalow is one of Hotel Treetop's unique features. It is a large independent villa with 4 well equipped bedrooms, living room, drawing room, balcony, two verandas, and its own car porch. It is ideal to host multiple families travelling in a group.
Special Honeymoon Package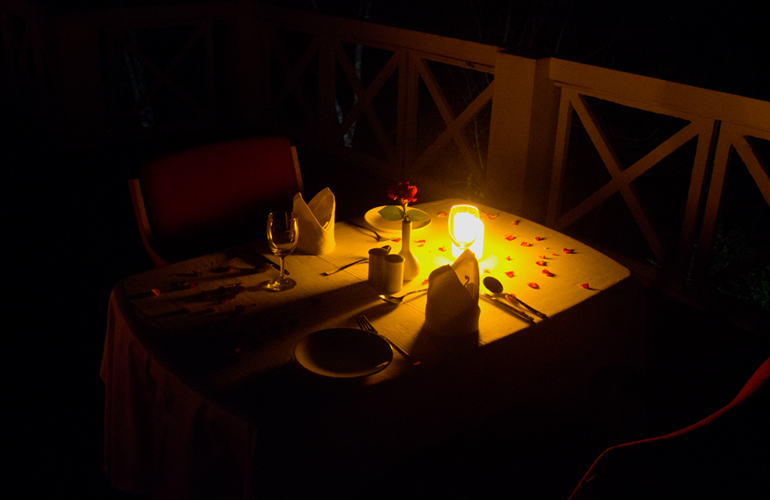 Western and Indian Packages
Candle light dinner
Table top made to perfection with a candle
Destination managed for you and your spouse
A floral arrangement in your bed
Welcome drink on arrival
A bottle of Indian wine
A basket of fresh fruits
Cake